Abdelrahman Mohamed Ali Moawad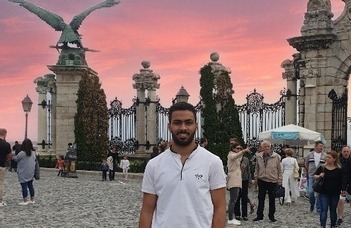 Study program: Mechanical Engineering BSc
Country: Egypt
Scholarship:
Period of studies at ELTE: 2018.09.01 - 2022.01.31
"ELTE is one of the most famous and prestigious universities in Europe regarding its research and scientific background."
What stood out to you about ELTE?
ELTE is one of the most famous and prestigious universities of Europe regarding its research and scientific background, which is very important for every student to learn and acquire. On the other hand, ELTE is known for its international environment where people can share experiences and thoughts coming from different backgrounds which results in more diverse cooperation in the future.
What makes studying at ELTE so great?
As I'm enrolled in the BSc program of Mechanical Engineering at ELTE, Savaria Institute of Technology in Szombathely, where the city is so peaceful with an amazing location. Our institute has plenty of laboratories and machines that are equipped with smart and advanced technologies as well as the deep knowledge and excellence of our professors make the academic life attractive and smooth.
What are / were your challenges in your study program?
One of the biggest challenges for me was the online education which went for so long because of the pandemic and because of it I had to do most of the work online without being able to do the practice classes which is so important for us as Mechanical Engineering students. One more thing is the Hungarian language which seemed to be hard to learn for everybody in the beginning and which made the communication somewhat hard.
How did you overcome these challenges?
On the one hand, the help and the patience of our professors facilitate for us the understanding not only of the theoretical parts of the lectures but also the practical classes which they tried to make as close to reality as possible. On the other hand, the Hungarian courses that were obligatory for us even as Mechanical Engineering students made the communication a little bit easier as well as the people living in our dormitory, since we are a small community, they tried to facilitate the Hungarian communication for us in a fun way.
How would you describe ELTE in three words?
Prestigious – Inspiring - Challenging
How do you think your degree will help you in your life and career?
During my 4 years at ELTE, I was involved in many research programs where I worked on several projects related to my field of study and where I developed my research skills as well as the extracurricular activities which enriched my communication skills as I worked as an international peer mentor. Moreover, studying in an international environment improved my teamwork and leadership skills. Due to this, I think I gained enough knowledge and acquired skills that will allow me to be brilliant as a future Mechanical Engineer.
Do you have any recommendations for future students at ELTE?
Be ready for an amazing experience waiting for you. You will benefit from a wide range of scientific and research knowledge which will help you achieve your goals. But you have to keep in mind that this will not come easy and you have to overcome many challenges which will make you stronger and wiser.