Alaa Aqrir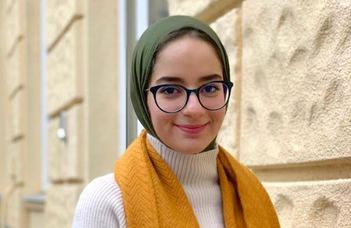 Study program: Psychology BA
Country: Morocco
Scholarship:
Period of studies at ELTE: 2018.09.01 - 2021.06.30
"Enriching, diverse and historical"
What stood out to you about ELTE?
Its rankings, definitely! I was very impressed to learn that it is the top university of Hungary in many fields, especially being among the best 300 in the world for Psychology programs. Also, the educational system, which is very different from my country's, I believe it is quite good and effective.
What makes studying at ELTE so great?
Being located in the heart of the capital city makes ELTE even more great, you get to experience the wonderful Budapest life, and enjoy many picturesque areas. Also, the staff are doing an amazing job being available for international students to provide guidance and support for administrative and university life matters.
ELTE hosts a large number of international students from all over the world every year, so you get to meet different people with different cultures and backgrounds, which I find extremely interesting and beneficial for my experience as an international student.
What are / were your challenges in your study program?
Although the new educational system was easy to adapt to, it was a bit hard to keep a positive mindset during the first year while juggling between the "life abroad" responsibilities and the study loads. With the help of the international office, the professors, and also other international classmates and friends it's become more and more flexible.
How did you overcome these challenges?
Well first, I have to say I've learned a lot since the start of my experience. A bit of good organization and time management is very helpful in times where you don't know where to start from or feel overwhelmed. Also, there is a counselling center at ELTE that provides help for students struggling to adapt or manage mental health issues.
How would you describe ELTE in three words?
Enriching, diverse and historical
How do you think your degree will help you in your life and career?
My degree will help me gain the basic but profound theoretical knowledge about the methods and implications of Psychology, which is necessary for me to build a strong ground for my future training in this field.
Do you have any recommendations for future students at ELTE?
I would say ELTE is the best place for anyone who wants to experience an exciting and positively challenging student life, Hungary is a very beautiful country, the more you travel across it the more you discover and learn about the culture. Do not hesitate to ask for assistance from professors and staff members, everyone is here to help you improve and get you closer to your goals.