Boutaina Dakdaki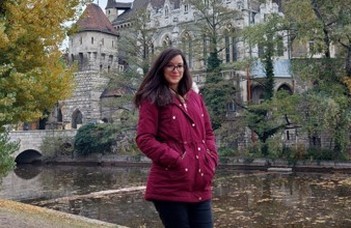 Study program: Mechanical Engineering BSc
Country: Morocco
Scholarship:
Period of studies at ELTE: 2019.09.01 - 2023.07.31
"I really enjoy being in such an environment and meeting new students from different countries, cultures, with different thinking, so I'm glad that I decided to enroll at ELTE."
What stood out to you about ELTE?
ELTE is Hungary's most prestigious university with the richest traditions and the highest international rankings in the country, and it provides good methods of teaching with highly qualified professors. Also, ELTE has an international atmosphere since it hosts a high number of international students which makes it attractive to foreigners. I really enjoy being in such an environment and meeting new students from different countries, cultures, with different thinking, so I'm glad that I decided to enroll at ELTE.
What makes studying at ELTE so great?
I'm pursuing my bachelor's degree at the Faculty of Informatics of ELTE (Savaria Institute of Technology) in Szombathely. Studying at ELTE is great for numerous reasons. On the one hand, even if the campus of Mechanical Engineering is in Szombathely, which is quiet city, studying in this field on this campus made me gain lot of experiences and knowledge in the manufacturing technologies field, machine learning as well as computer aided solutions. Here, we have all we need as mechanical engineers, since the campus has highly qualified professors as they have a great background, and they are always ready to share their knowledge with us. On the other hand, there are multinational companies in Szombathely, which makes the location of the institute perfect and gives students an opportunity to join one of the companies in the future.
What are / were your challenges in your study program?
Mechanical Engineering is not an easy field, and it needs a lot of hard work, we cannot be engineers or whatever we want without having some failures and facing difficulties. Getting used to the programme and the university life was a bit difficult at first because I haven't experienced university life before, since I did not study at my country's university, also, the city is calm and people were not used to foreigners here, so it was a bit hard to integrate into the society here.
How did you overcome these challenges?
By working hard and with the help of my classmates as well as my professors I tried to focus on my goals which brought me here, this way I could overcome all of these challenges. By using the Hungarian language, I could get more familiar with Hungarian people in Szombathely and even the countryside.
In addition, there is a counselling centre at ELTE that provides help for students striving to solve any problems they might have.
How would you describe ELTE in three words?
Challenging – Development – Fruitful
How do you think your degree will help you in your life and career?
I found the program that suits my aspirations and future goals, and the Mechanical Engineering Degree of ELTE is a widely recognized degree that shall boost my career opportunities in the European Union and several other countries around the world. I believe that after graduating I will have theoretical knowledge with practical experience in Mechanical Engineering which will make me continue working in a company related to this field.
In addition to this, studying in this program gives us a chance to experience different education systems, improve our language and communication skills and provide us with better opportunities.
Do you have any recommendations for future students at ELTE?
I recommend ELTE to all future students who would like to enjoy their studies and student life.
Regardless of the field where you will be studying, you will get lots of opportunities from this education system which is a mixture of scientific knowledge and a multicultural environment. ELTE provides students with a high-quality educational system and by hard work they will get familiar with the system and overcome the difficulties.
Keep yourself motivated and never let go of your dreams, even if you face difficulties do not stop and keep going until you achieve your goals.