Carla Liege Rodrigues Pimenta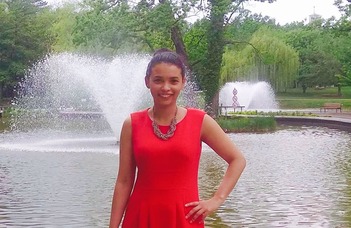 Study program: Doctoral School of Education
Country: Brazil
Scholarship:
Period of studies at ELTE: 2018.09.01 - 2022.06.30
"The broad opportunities and activities offered to students during the studies are impressive."
What stood out to you about ELTE?
ELTE is a leading university in Hungary, as well as in the international field. The geographic location is also one crucial aspect: being in the country's capital gives you an exciting environment surrounded by international students and an English speaking community. I can see that the richness of Hungarian traditions, history, and cultural diversity makes Budapest the best place to study and work in.
What makes studying at ELTE so great?
ELTE, especially the Faculty of Education and Psychology, excels at teaching, research, and interdisciplinarity work. I was thrilled by the research activities and the supervisors' openness in our endeavours. The broad opportunities and activities offered to students during the studies are impressive. I had a chance to participate in programs supported by the university, such as mentoring programs, teaching, attending summer school in Finland and Italy, and international conferences.
What are/were your challenges in your study program?
At the begging of my studies, it was the administrative bureaucracy and the official offices' language barrier. The credit application form was the first task to fill out in my doctorate program, and I did not know how to do it.
How did you overcome these challenges?
I had the support of the university throughout the HOOK program mentoring network. The Hungarian mentors helped me in solving the problem at immigration. Also, I had help from Student Ambassadors regarding their experience in renting places and the course structure, the requirements and the people I should contact.
How would you describe ELTE in three words?
Excellence Learning Talent
How do you think your degree will help you in your life and career?
Completing my doctoral programme at ELTE will create many opportunities for me. I am grateful to be part of this program, these two years of training were filled with enriching experiences. This challenging time made me reflect on the future and what to do after creating a strategic plan for the coming years, which is also part of developing a personal and professional perspective.
Do you have any recommendations for future students at ELTE?
Prospective students, be confident! We welcome you to this great university. ELTE and Budapest will offer the best opportunities in your academic and personal life. Please step out of your comfort zone, take all the chances you can, they will lead to new and exciting activities. If you need help, please feel free to contact me. I would be happy to help you with this unique academic experience.