Eunice Ondo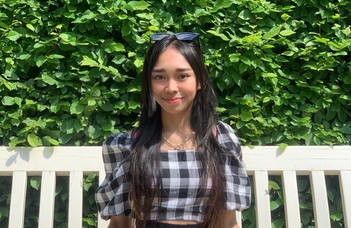 Study program: International Relations BA
Country: Philippines
Scholarship:
Period of studies at ELTE: 2021.09.01 - 2023.07.15
" As you give ELTE the chance to give an impact to your life, like everything else coming along your way, I hope you give yourself the same chance to welcome whoever you will become, planned or unplanned."
WHAT STOOD OUT TO YOU ABOUT ELTE?
ELTE itself speaks for the prestige it holds as the top institution for public higher education in Hungary. Being the leading (and also largest!) university in the country for many years now, I just knew that the education and research provided would be of high value and excellence. It offers wide and varying specializations with outstanding faculty members that allow for students to nurture their passion into goals and prepare them for the path they will take on as future professionals. It also has an open community of intellectuals of inspiring beliefs and multicultural backgrounds that lays out more opportunities for networking and building connections. It's rich in networks for international cooperation and exchange, and it ensures that its students get to fully enjoy the benefits of that. These, aside from the magnificent architecture of its buildings (Of course, we have to mention this), make ELTE deserving of its distinction; reasons why it's been able to live up to its prestige to this date.
WHAT MAKES STUDYING AT ELTE SO GREAT?
The university has a very supportive environment that engages its students to their full potential. It grants for a well-rounded and excellent cultivation of knowledge through pedagogy while providing space for its students to grow and prosper into their own individualities by means of experience. It is unique in a way that even before one exhibits their full capabilities, they are already provided with opportunities to double these capabilities and branch out to more fields for a wider reach of understanding. ELTE is diverse and inclusive at the same time, encouraging multilateral perspectives and practices in learning that enable students to challenge and expand their knowledge to its greatest capacities.
WHAT ARE / WERE YOUR CHALLENGES IN YOUR STUDY PROGRAM?
Starting my tertiary education at the height of the pandemic, it was harder for me to navigate as an international student. It became difficult to reach out and make friends, and even more difficult to adjust in an online setting when it comes to learning. Additionally, I was faced with pressure for my lack of knowledge in terms of Western-oriented politics and European history, which are two of the main ideas that surround my study program. Highly-experienced professors with backgrounds from large and international organizations intimidated and humbled me at the same time.
HOW DID YOU OVERCOME THESE CHALLENGES?
The programs and events held by ELTE and other organizations that managed to work around the difficulties of the pandemic enabled me to adjust increasingly in the way of life here, with Student mentors and International student ambassadors both providing guidance and support. The professors were very understanding and very accommodating of our queries and concerns, making the curriculum well-suited for the digital environment and more accessible to us students to ensure that everyone gets the knowledge they deserve. The pressure of my lack of foundational knowledge challenged me for my own advancement, and the professors motivated me more for the future I want to obtain in the field of Politics and International Relations.
HOW WOULD YOU DESCRIBE ELTE IN THREE WORDS?
Not to sound cheesy or anything but I could use all the adjectives in the world and it still wouldn't be enough to describe how much ELTE has impacted who I am today. And for that, I'll forever be grateful.
HOW DO YOU THINK YOUR DEGREE WILL HELP YOU IN YOUR LIFE AND CAREER?
Even through now, I know that I am more aware of the current state of affairs worldwide. In the pursuit of the degree itself, I have witnessed myself grow and achieve greater heights that I never once imagined is possible, both in personal and scholarly ways. The prestige of what an ELTE diploma holds also assures me that there would be endless doors to open for myself and my chosen career path in the future. Most importantly, the networks and connections I have built are for sure lifelong and will go beyond seas, across borders. And as I hopefully embark on legal profession in the next stage of my life, I know that my degree has more than equipped me with the necessary tools and knowledge that will be needed in this journey.
DO YOU HAVE ANY RECOMMENDATIONS FOR FUTURE STUDENTS AT ELTE?
College is the time of your life when you'll feel so sure yet so uncertain at the same time- of yourself, of what's around you, and of where you're going (Don't worry, you're cool!). It's supposed to be this giant film roll of memories just flashing right before your eyes, and by the time you realize its essence, it has already gone by. What I'm trying to say is when you're given a once in a lifetime opportunity, you should go and dare to make the most out of it. Say that 'hello', attend that party or join that conference– go out of your comfort zone and be sure to discover more of yourself every day; and before you even know it's happening, you're already changing into this person of multitude capacities just waiting to unfold. As you give ELTE the chance to give an impact to your life, like everything else coming along your way, I hope you give yourself the same chance to welcome whoever you will become, planned or unplanned.