Hoang Nguyen Khanh An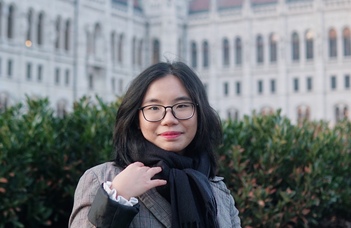 Study program: International Business Economics BA
Country: Viet Nam
Scholarship:
Period of studies at ELTE: 2020.09.01 - 2024.07.31
"This was exactly what I had been searching for: an encouraging environment in which respect for science would be passed on from one generation to another. "
What stood out to you about ELTE?
Contributing to the "Community of Knowledge" is where ELTE's vision and my passion met. This was exactly what I had been searching for: an encouraging environment in which respect for science would be passed on from one generation to another. I could see how knowledge is highly valued and enhanced throughout various academic activities, such as research projects, competitions, and a variety of majors.
What makes studying at ELTE so great?
It is the quantity and quality of subjects that make studying at ELTE worthwhile. International Business Economics is a multi-disciplinary program, which consists of many "building blocks" of different domains like Marketing, Finance and even History. By offering such well-rounded courses, ELTE encourages students to actively learn and explore their own potentials in many dimensions.
Moreover, a diverse network of students from 9 faculties and more than 100 countries broadens exchanging knowledge beyond the classroom. At ELTE, I find myself constantly learning new things, not only from the curriculum but also from professors and friends.
What are / were your challenges in your study program?
The challenging aspect of the International Business Economics program lies in its high level of interrelation with the real world. It is essential to have a balance between understanding economic concepts and applying them to emerging world problems. Analyzing today's complex issues requires a combination of economic and business disciplines, which has never been an easy task for me. However, this is an extremely thought-provoking process, through which I gain valuable insights about my career tendency and potential.
How did you overcome these challenges?
It took me a lot of time and continuous effort to build up a thorough understanding of topics and concepts. However, ELTE facilitates a cooperative environment that enables me to team up with others when tackling a problem. Coming from all parts of the world, my classmates bring to the table various viewpoints about international business issues. Because of this, I can easily relate and find practical solutions to them while exploring new ideas from others.
How would you describe ELTE in three words?
Cooperative – Inspiring – Prestigious
How do you think your degree will help you in your life and career?
ELTE's degrees are accepted worldwide, hence offering me endless study and work opportunities in all parts of the world. But for me, what really matters is the pride of belonging to this prestigious university. More than a motivation, it gives me a sense of identity and confidence, which differentiates me from others. Upon graduation, my degree will continue to remind me of my academic and professional endeavors, as well as my responsibility towards the community when doing business.
Do you have any recommendations for future students at ELTE?
Acquiring knowledge is definitely important but there are a lot more activities that can fulfill your experience at ELTE. Let your university period be the most beautiful time of your life by participating in sport clubs or social activities. You will not be disappointed as this is the best way to explore yourself and add value to the community of ELTE.