Marija Papić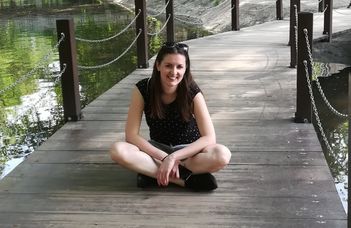 Study program: Educational Science
Country: Serbia
Home Institution:
Scholarship:
Period of studies at ELTE: 2018.02.05 - 2018.06.11
WHY ELTE?
As an active member of the Erasmus Student Network I had the opportunity to hear about ELTE long before I became its student. However, in March 2017 I attended the regional HousErasmus+ conference in Budapest which was hosted by ELTE when some representatives of the university came and presented the university. What caught my attention was that ELTE really stands out and is very proud of their study programs in the field of education which happen to be my field, as well. Having no Erasmus+ contract between my home university and ELTE, I found out my only option to become an exchange student at ELTE was via CEEPUS Freemover program. I was brave to send an email to the International Office at the Faculty of Education and Psychology who gave me a positive answer soon. Then I worked on preparing my application and in January my exchange period was finally confirmed.
WHAT DID YOU LIKE MOST ABOUT BEING A STUDENT AT ELTE?
What I liked the most were the opportunities I was given during my study period. Even before the semester started, I found out that the university has the sports club where I can practise sports for affordable prices. Also at the faculty level I really appreciated our professors' efforts to involve us in many different activities and to invite guest lecturers to give us insight into some specific topics.
WHAT WERE THE CHALLENGES IN YOUR STUDY PROGRAM?
I don't think I had any major challenge during my study period. I was only wondering if I would be able to follow all the lessons due to my professors' English competences, but luckily there were no issues. All professors speak very good English and it was enjoyable to attend their lessons. As usual in the mobility process, the most annoying part is the administration, but it's a process that requires time and patience.
HOW DO YOU THINK YOUR DEGREE WILL HELP YOU IN YOUR LIFE AND CAREER?
After having attended the first lessons, I immediately understood how big impact they will have on my future professional life. I was able to follow the courses that I don't have at my home university which definitely increases my knowledge and competences, as well as the interest for certain topics. Coming from the country that is aspiring to join the European Union, I found it very useful to attend the course named European integration and education which gave me a good overview of what the expectations, challenges and benefits for an education system are when there is a request to adjust it to certain requirements and how big the competences of the EU are in this field.
DO YOU HAVE ANY ADVICE TO FUTURE STUDENTS AT ELTE?
Apart from living in one of the most beautiful cities and being able to get to know better a very unique culture, my best memory from my study period will definitely be the lessons I attended. They were very inspiring and helped me extend my knowledge in different areas. Professors were very cooperative and friendly which made my stay even more enjoyable. That is why my advice to future students at ELTE would be to choose their programs and courses wisely and to select those that can help them prosper professionally. This way they will see all the benefits of their stay at ELTE and how much ELTE can offer them and consequently they will be satisfied with their achievements and progress. In addition, I would recommend students to try out delicious Hungarian cuisine, have a look at Budapest from Citadella or go to Lake Balaton on a sunny day.