Mouna Ammar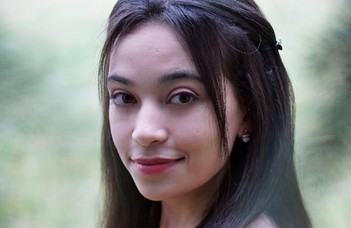 Study program: Mechanical Engineering BSc
Country: Tunisia
Scholarship:
Period of studies at ELTE: 2019.09.07 - 2023.07.01
"Being enrolled at ELTE provides me with access to a high-quality educational system."
What stood out to you about ELTE?
ELTE was my first choice for several reasons. On one hand it is the most prestigious university in Hungary having a high academic rank not just in Hungary but in Europe as well regarding its scientific and educational background. Furthermore, being enrolled at ELTE provides me with access to a high-quality educational system, resources and to a useful and constructive network of companies and research institutes. On the other hand, I personally love the experience of studying in a multinational class which is the most important thing that ELTE provides us since it is the destination of international students from all around the world. Being a student at ELTE means being exposed to an open and inclusive educational platform where we can exchange ideas and thoughts, learn from the experiences of other students coming from different national contexts, and even build relationships for future cooperation.
What makes studying at ELTE so great?
Regarding the field I'm studying, which is Mechanical Engineering, I'm pursuing my Bachelor's Degree at the Faculty of Informatics of ELTE in Szombathely. In this adorable and super quiet city, there is a small number of international students and this was a great opportunity since we managed to become a small family with each other and with our professors. We don't have to think too much when we need help because we can find whatever we want closeby. Also, what makes studying at ELTE so great is the knowledge we're gaining every day from the talented and kind group of professors surrounding us.

What are / were your challenges in your study program?
You can't make a success story without facing difficulties and challenges. However, Mechanical Engineering is not an easy field so I had to work harder to achieve my goals, I wasn't the kind of student who just wants to pass, I have always loved to fight for my dreams and get the best marks in my studies and this cost me a lot. One more thing, since I'm not studying in Budapest it's quite rare to find someone who speaks English, and this made me struggle a bit in the very beginning. The most challenging situation for me was because of COVID-19. Almost all of my time during the pandemic was a self-quarantine and I was so scared and stressed about how my studies are going to be online especially that I'm a Mechanical Engineering student. I was also worried about my social life.
How did you overcome these challenges?
By patience and hard work, everything will go smoothly. As I have said, because of the pandemic I could only study offline for only one semester, and since I liked the university life during this one and only semester, it was very hard for me to get used to staying in one room and studying also because I'm an active person socially and physically. But due to the huge help that our professors offered us, from online consultations and moral support to the rigorous way of teaching, I could rebuild my motivation to study and acquire more than enough knowledge to complete my studies. Moreover, being a group of international students living together in ELTE's dormitory, we supported and helped each other in every way possible. Besides, the language problem was solved by the Hungarian Courses offered by ELTE . I got familiar with a couple of words and was able to communicate with Hungarians somehow without even saying a word.
How would you describe ELTE in three words?
Home - Challenging – Prestigious
How do you think your degree will help you in your life and career?
Even though I haven't finished my studies yet, I believe that through my Bachelor's Degree, I'm gaining excellent theoretical knowledge complemented by practical experience. Moreover, being enrolled in such a program gives me the chance of benefiting from the scientific development of Hungarian laboratories which will help me as a future engineer in improving my research skills, and my English in the field of engineering. Therefore, I would like to use my stay in Hungary for further development of my abilities by applying to internships and making regular visits to factories. Furthermore, the chance of experiencing different education systems is an excellent way to acquire a new perspective on culture and people, language skills, and an enhanced willingness to learn, which will improve my communication skills and give me a chance to get better opportunities. Furthermore, it excites me to seek out challenges and carry responsibilities by myself. For me, these qualities are highly attractive to future mechanical engineers as well as social people which was my goal since a very young age.
Do you have any recommendations for future students at ELTE?
Hey guys, I would like to tell you that you won't regret choosing ELTE as your first choice regardless of the field where you will be studying, you'll benefit from such a beautiful mix of scientific knowledge and multicultural environment. But you have to know that nothing comes easy, you have to be ready to face challenges that will teach you how to rely on yourself and be responsible, but never hesitate to ask for help, you'll get it immediately either from your friends or from the university.
Learn how to always stay motivated no matter what situation you're in and always be passionate about what you are doing or learning. Don't worry, you'll get the necessary information in your studies, but you have to know how to use it.