Nguyen Thi Thao Vy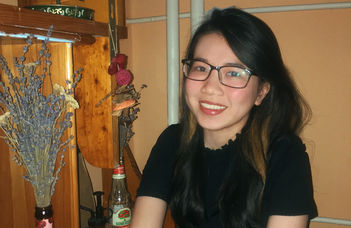 Study program: International Relations BA
Country: Viet Nam
Scholarship:
Period of studies at ELTE: 2019.09.01 - 2022.07.15
"I believe a degree awarded by ELTE would open up a new horizon of opportunities."
What stood out to you about ELTE?
Besides the benefits of good academic quality and ideal location, what also attracted me to ELTE are its wide variety of majors, which means that it can offer more in-depth and unique courses; its on-campus facilities; and especially the fact that it has an extensive network for outgoing mobility.
What makes studying at ELTE so great?
First of all, ELTE offers a supportive and encouraging learning environment. The professors are always encouraging intellectual inquiry, and willing to go beyond their call of duty to assist students. At the same time, thanks to ELTE's network and location in the capital city, students are also exposed to many influential non-governmental and international organizations (and labs and firms) during their study, which can help them establish networks with experts in the field or even land a job before graduation.
Concurrently, the exposure to different perspectives and practices from all corners of the world has dramatically increased my awareness of the immense diversity along several dimensions. The multicultural environment, together with the respectful and welcoming atmosphere induced by the professors, engenders many multifaceted discussions that broaden my horizon to a great extent, far beyond what I have expected!
What are / were your challenges in your study program?
To me, the biggest challenge of studying International Relations (IR) here is the greater emphasis that is put on European history, its political institutions, as well as the deeper insight into many other regional aspects. These topics often cost me extra effort because I was not very well equipped with such knowledge during my previous studies in Vietnam which suffice to say derived primarily from an Asian-oriented point of view. Another testing aspect is that since IR is a multi-disciplinary subject, it covers a wide range of social topics that sometimes demand a massive grasp of knowledge drawing from many different domains.
However, on the bright side, these are not at all problems but necessary advancement. Indeed, they make my studies all the more interesting and meaningful since I've got to immerse myself in learning what has been going on in other parts of the world.
How did you overcome these challenges?
Familiarizing with these topics first and foremost requires much time and effort on my part, but the fact that ELTE offers a well-structured curriculum helps a great deal, which is also an added benefit of studying here. The curriculum makes sure that the subjects assigned for each study period not only develop from the accumulated knowledge of previous semesters but also interlink well with the others within the same term. As each course unfolds in a logical order, each layer of knowledge is evenly built up. Simultaneously, this significantly helps to connect the dots across disciplinary boundaries. Besides, the professors totally understand students' varied academic backgrounds, so they make sure to walk us through each topic thoroughly and they are very responsive to any questions that come up as well.
How would you describe ELTE in three words?
Supportive - Fulfilling - Eye-opening.
How do you think your degree will help you in your life and career?
I believe a degree awarded by ELTE would open up a new horizon of opportunities, but the whole learning experience itself already furnishes me with a sound understanding of how society functions, a multi-perspective view, a thorough grasp of the current economic and political climate - all of which are significant assets for any future endeavors I choose to embark on upon graduation.
Do you have any recommendations for future students at ELTE?
The rewards of studying here are enormous and to make sure that you can reach your full potential, ELTE always offers the help you need, be it administrative or academic problems, as long as you ask. So, familiarize yourself with the available resources so that you can exploit them in the best way possible for your own intellectual growth. On top of that, get in touch with current students and alumni, they may have some helpful tips and experience to share!