Rashideh Badran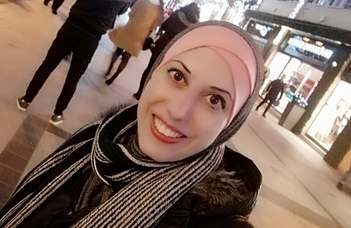 Study program: Doctoral School of Literary Studies
Country: Jordan
Scholarship:
Period of studies at ELTE: 2018.09.03 - 2022.07.31
"Apart from the academic side, ELTE's community offers students a wide range of extracurricular activities that help international students integrate and socialize with local and other international students"
Why ELTE?
Before I applied to study in Hungary through the Stipendium Hungaricum scholarship, I researched all the universities that offered my preferred program of study. I chose Eötvös Loránd University for various reasons. ELTE is a highly ranked academic institution in Hungary and, according to the QS ranking, it is ranked 651-700 in the world and 28th in the EECA region. In fact, it is one of the largest, most prestigious and oldest universities in Hungary. ELTE not only offers first-class education to the international community, but it is also a place where excellent, broad, and high impact research is undertaken by a highly qualified prize-winning teaching staff. Furthermore, ELTE's alumni include Nobel Prize winners and many world-famous scientists, which encouraged me to be one of its students. Besides, I was even more encouraged when I went through the website and read about the facilities it offers ranging from libraries, study halls, sports units in addition to community life for international students.
What do you like most about being a student at ELTE?
I like the feeling that comes to me when I think of myself as being a student at one of the oldest and largest universities in Hungary. Indeed, Eötvös Loránd University is the most popular higher education institution among applicants each year. As the leading research university in Hungary, the name of ELTE means knowledge, opportunities, competition, openness and community. For me, ELTE gave me the opportunity to experience a teaching system that is different from what I was used to earlier. This system taught me self-reliance and opened a variety of resource channels for me. As a doctoral student, all people in the doctoral school department are so friendly and they all do their best to help us. Apart from the academic side, ELTE's community offers students a wide range of extracurricular activities that help international students integrate and socialize with local and other international students such as national days, sport activities, and Erasmus Students' Network activities. Moreover, being located in the heart of Budapest makes it easy to reach, surrounded by many service-providers like banks, restaurants or cafes and also makes it a famous meeting point for students.
What are your challenges in your study program?
What doesn't kill you makes you stronger. I believe that every challenge I meet builds my experience and pushes me towards positive change and improvement in terms of academic performance and personality. At my first arrival to Budapest, the most difficult challenge I had is being in a foreign and European country which would be the first and biggest challenge to most newcomers. That is why it is so important to google as much as you can about the place that will be your next destination. It is important at this stage to make safe connections and good friends that would stand by your side until you are able to stand by yourself. Moreover, I found the teaching system of seminars a challenging one but little by little it made me a better reader, enabled me to acquire better research skills and to find a friendly atmosphere among the academic staff who were even more like colleagues or partners rather than instructors in the learning process. The online system may seem difficult for a foreigner to deal with, while it is, in fact, manageable. In my opinion, what we need to do is break this barrier of fear that stands between us and the things that are new or unfamiliar to us.
How do you think your degree will help you in your life and career?
First of all, I hold a master's degree in English Literature and my PhD program goes along with the same study path I took. Getting this degree from a prestigious and highly ranked university increases my opportunity to start a career as an instructor in universities.
Do you have any recommendations for future students at ELTE?
As an international ambassador, I would say that choosing ELTE as the place for my doctoral studies among other institutions of higher education in Hungary was a wise decision that I will not regret. I would also mention that it is important for prospective students to search thoroughly for their preferred study program, university information, available options and opportunities and to choose wisely. Being resourceful and knowledgeable is the way to success.