Sanaa El Alaoui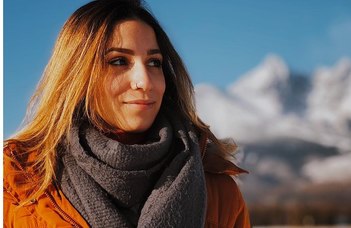 Study program: English and American Studies BA
Country: Morocco
Scholarship:
Period of studies at ELTE: 2017.09.04 - 2020.07.31
"Enjoy your time here and don't be afraid to ask for help."
Why ELTE?
ELTE constantly thrives to build an open minded environment for its students since the beginning of its history. It provides a challenging academic environment and experienced professors with a suitable background.

Its international outlook as one of the most distinguished universities in Europe, its academic outcome, its rich history and contemporary achievements scientifically and artistically makes ELTE worthy of choosing. It is a university of opportunity, network, knowledge and it provides an unforgettable experience.
What do you like most about being a student at ELTE?
It is a good investment in knowledge, especially because it promotes freedom of thought and critical thinking.

ELTE comprises various different academic subjects which provide opportunities for students to learn more besides their main degree.

Being a student at ELTE has enabled me to engage in an international network with students from all around the world. Throughout my academic years at ELTE, I could engage in cultural events and organize cultural and educational activities related to my field of study.

Attitude, academic skills, accomplishment and awareness are all traits I developed during my studies at ELTE.
What are your challenges in your study program?
It is inevitable for international students to face challenges in their study programs. Personally, lack of internship opportunities and the language barrier are two major challenges I am facing as a foreigner. Most career opportunities are for Hungarian speakers.
How do you think your degree will help you in your life and career?
My degree in English and American Studies provides me with a variety of options for my future career. During my studies, I chose Film & Culture as my specialization considering that I would like to pursue a career in filmmaking. I believe that having a degree in English and American studies and in Film and Culture Studies is the perfect blend for me to have a profound experience in the film industry on an international level especially because my theoretical background is well-structured throughout the course of my studies at ELTE and prepares me to embark on the practical experience as well.
Do you have any recommendations for future students at ELTE?
Be ready for a challenging academic life at ELTE. Don't be afraid, a good university is a challenging one. Be confident and stay positive. Don't be afraid to share your opinion and to speak especially if you enjoy class discussions and listening to opinions from different backgrounds.

Enjoy your time here and don't be afraid to ask for help. ELTE has a welcoming environment.

Believe in yourself, believe in your goals and in your dreams. If you fall, it is not a problem. Falling down will help you learn how to get up! Always find motivation!

Enjoy ELTE, enjoy the diversity and enjoy Budapest!
Good luck!