Sarah Moukebel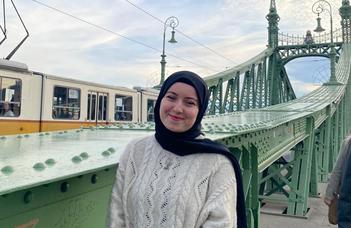 Study program: Biology MSc
Country: Algeria
Scholarship:
Period of studies at ELTE: 2021.09.05 - 2023.07.08
"On top of that the professors, staff and even the Hungarian students are very welcoming which creates quite a friendly environment."
WHAT STOOD OUT TO YOU ABOUT ELTE?
ELTE is known amongst people to be a prestigious university which offers a wide range of programs and specializations making it the highest ranked university in Hungary. I chose to study here because I saw that they put a lot of emphasis on research and practice, especially in the faculty of science which aligns with my personal goals. A lot of international students coming from all parts of the world are already studying at ELTE so it was easy for me to find people whom I could relate to. On top of that the professors, staff and even the Hungarian students are very welcoming which creates quite a friendly environment.
WHAT MAKES STUDYING AT ELTE SO GREAT?
Most professors in ELTE are quite laid back, they focus more on the student's training and try their best to encourage us even when we make mistakes. The international coordinator and the program's administration are always very responsive and offer solutions to all kinds of problems you might face during your training. ELTE also prioritizes mental health a lot, they are very flexible and will not hesitate to help if you ever feel overwhelmed. They even offer free counselling! Furthermore, the Biology program offers quite a lot of practical courses where I was able to learn several techniques and the different departments work on several interesting research projects where you can do your thesis work.
WHAT ARE / WERE YOUR CHALLENGES IN YOUR STUDY PROGRAM?
In my first semester at ELTE, it was hard for me to adjust to this new lifestyle. Everything was different from my university back home and even if the professors were laid back, they still gave us a lot of work, assignments, and presentations to prepare. All the biology specializations have a few courses in common and some of them were hard and very time consuming.
HOW DID YOU OVERCOME THESE CHALLENGES?
The second semester was a lot easier because I already knew what to expect. I organized my time better and asked my friends for help when I was struggling with a certain subject. You have to have an idea of what your semester will look like and what deadlines you have in order to plan the other things in your life around them and that's exactly what I did. I also took breaks when needed and tried to enjoy the city as much as possible. I took a lot more credits in the second semester, so I had more workload, but it was still a lot easier to manage than the first one simply because I planned everything beforehand.
HOW WOULD YOU DESCRIBE ELTE IN THREE WORDS?
Welcoming, culturally diverse, and group oriented.
HOW DO YOU THINK YOUR DEGREE WILL HELP YOU IN YOUR LIFE AND CAREER?
The Biology MSc program includes a variety of practical courses where I was able to learn when and how to use so many techniques that are used in research and also in the industry. Additionally, we were taught how to write a proper research proposal, what it means to be a researcher, how to write a C.V and motivational letters and so many other things that will benefit us in our professional lives. A few courses also focused on group presentations where we practiced speaking to an audience and it allowed me to develop my interpersonal skills and to see how people from different parts of the world work and think.
DO YOU HAVE ANY RECOMMENDATIONS FOR FUTURE STUDENTS AT ELTE?
Do not let other people's experiences effect yours, what might be hard for them could be easy for you and vice versa. Don't be afraid to take courses from other departments and specializations, they cover a lot of interesting topics that can benefit you in the long run. And finally, take advantage of the events organized not just in your faculty but in other faculties as well, to build your social circle and to look for new opportunities.