Soufiane Boulassel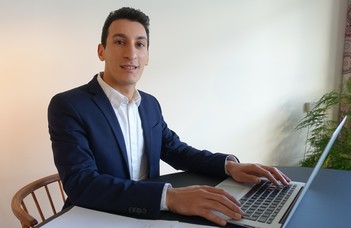 Study program: Doctoral School of Earth Sciences
Country: Algeria
Scholarship:
Period of studies at ELTE: 2016.09.07 - 2020.06.30
"By choosing ELTE, you'll be choosing to broaden your personal and academic horizons."
What stood out to you about ELTE?
Eötvös Loránd University is one of the top public universities in Hungary. The diplomas issued by ELTE are acknowledged worldwide, and its course credits are transferable in all countries in the European Union. If you consider a degree from a prestigious university like ELTE a step forward in your career, then what are waiting for? That was the statement of my teachers when I heard about the SH program in 2016. For me, it was a one-shot chance to unlock my future, and guess what? The key was made of gold because since then ELTE is still opening doors for me, providing a solid path, offering chances, and taking me on adventures to achieve the unachievable and experience new things in life and for that, I am so grateful.
What makes studying at ELTE so great?
The learning environment plays a crucial role in a student's success. I believe that ELTE has a welcoming, helpful, friendly and most importantly, an international environment. Studying in a favorable global environment would no doubt boost your personality, widen your horizons, develop your skills, open you to a new culture, improve your networking, and develop your communication skills. Marissa Lombardi says, "When talking about studying abroad, you're taking concepts from the classroom and watching it play out in real-time, in real life." Playing a role-exchange and being part of an international environment that a university has to offer. I think that's what makes studying at ELTE joyful.
What are / were your challenges in your study program?
Doing a PhD program itself is a "challenge", starting from how to manage your time, how to get over stress, how to overcome the lack of self-confidence, lack of motivation, to the barriers with language, culture shock or even being homesick. I have faced all of these challenges and some students might face them during their study abroad as well. However, the good thing about facing these challenges is that one day you will surpass them, and they will be your strong point.
How did you overcome these challenges?
There is no "one" typical solution for the challenges I have faced (or that I'm facing) in my academic or personal life, simply because the problems are not similar, and that's why it's a challenge. But if you are asking what would be the key that helps to overcome most of the challenges I faced during my study, I would emphasize "Good Relationships". Build a strong relationship with students and teachers will help you overcome most of the challenges you will face. Being able to talk about what you are stuck with will make you feel relieved. Besides that, in most cases, you will give people a chance to help you out because it might be the case that what you consider a big challenge for the day or the semester could be solved by a friend's advice or a teacher's recommendation.
How would you describe ELTE in three words?
Best life opportunity.
How do you think your degree will help you in your life and career?
Besides that, it is "my dream to be a researcher" and "contribute to the real-life science." A Ph.D. degree is an opportunity to widen your knowledge and hone your skills. From my point of view, once you're done with your Ph.D; you'll be trained to tackle any difficult situation personally and professionally. The most significant benefits of a Ph.D. are that it increases your potential earnings, improves your lifestyle, it opens doors to career opportunities that wouldn't be possible otherwise. Everyone has a dream to be an artist, maybe a teacher, a writer or a decision-maker…and there has to be a reason for which you choose what you would like to be, except if you are a Ph.D. student there are many reasons, a Ph.D. student needs to play all majors. An artist on the podium of a conference, a teacher in the class, a writer, a researcher, and a decision-maker. For me, A Ph.D. degree is a winning ticket for the best of both worlds. Or better yet, the best of (all) worlds.
Do you have any recommendations for future students at ELTE?
Learning is an endless process, you learn something new every day, maybe even every second. My advice for future students:
• Focus on your goal, because if you lose the goal you lose the path.
• Ask for help when you need it, and bear in mind "asking will only make you stronger".
• Work hard and do not put things off if you can get them done on that day.
• Find a good balance between study and social life.
• Have perseverance to realize the great life you dreamt of.