Zhou Li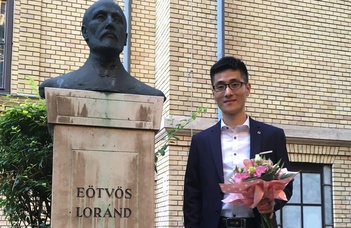 Study program: English and American Studies BA
Country: China
Scholarship:
Period of studies at ELTE: 2015.09.15 - 2018.07.16
WHY ELTE?
ELTE has a good reputation in Linguistics Studies, which benefits from its long history of arts and humanities. It was a good choice for me to continue my study in this field. Also, I have to express my thanks to the Stipendium Hungaricum Scholarship program which gave me this opportunity and enabled me to stay and study without financial concerns.
WHAT DID YOU LIKE MOST ABOUT BEING A STUDENT AT ELTE?
It is cultural diversity that I value most as a student at ELTE. There are different students coming from different cultural background while sharing the same belief in respect and communication. Being a student at ELTE, I can always feel free and pleasant to communicate with those who carry with themselves distinct and interesting cultural values and elements
WHAT WERE THE CHALLENGES IN YOUR STUDY PROGRAM?
The biggest challenge that I have faced during my studies was that I often felt less competitive in knowledge accumulation when compared with foreign students. For example, my Hungarian classmates often responded more when it came to discussion about previous literature works and writers in the literature courses.
HOW DO YOU THINK YOUR DEGREE HAS HELPED YOU IN YOUR LIFE AND CAREER?
This degree lays a solid foundation of basic theories and research methodology for my further studies and ensures that I have the potential to conduct research in an independent and constructive manner.
DO YOU HAVE ANY ADVICE TO FUTURE STUDENTS AT ELTE?
ELTE is a wonderful choice for students who want to take their studies further and develop international and multi-cultural perspectives. Before you come, please make sure you are fully prepared no matter in terms of foreign language level or intercultural competence. For me, this is what academic excellence can be built on.