ELTE rising in the impact rankings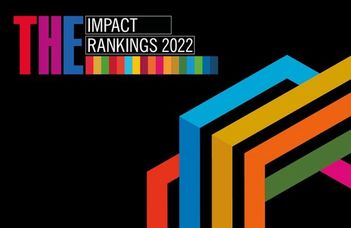 HU
Stepping up one category since last year, our university finished in position 401–600 in the 2022 Times Higher Education Impact Rankings assessing universities in terms of sustainable development.
Sustainable development is a fundamental aspect for students in the process of choosing a university for their studies. For international students, sustainability issues have greater importance than, for example, the geographical location of education. The Times Higher Education (THE) launched its global performance table called "Impact Rankings" in 2019, which assesses the world's universities against the United Nation's seventeen Sustainable Development Goals (SDGs).
Following last year's ranking of 1,117 universities, the list comprises as many as 1,406 higher education institutions this year. In addition to SDG No. 17 (Partnerships the Goals), the final position in the rankings is determined by the scores achieved in the three goals in which the given university performs best. Despite the enlargement of the table, ELTE stepped up one category compared to its position gained a year ago and finished in rank 401–600 based on the overall scores.
Our university was present in the rankings with six goals in 2021 and with seven goals in 2022. ELTE has risen two categories in the Quality Education SDG and one category in the Peace, Justice and Strong Institutions SDG since last year. In four SDGs (Reducing Inequalities, Gender Equality, Responsible Consumption and Production, and Partnerships for Goals), it retained its last year's position. In the new SDG (Sustainable Cities and Communities), Eötvös Loránd University is ranked 301–400.
The scores of ELTE concerning the individual goals are the following:
| SDG | ELTE'S POSITION |
| --- | --- |
| Reduced Inequalities | #101–200 |
| Quality Education | #201–300 |
| Gender Equality | #201–300 |
| Peace, Justice, and Strong Institutions | #201–300 |
| Responsible Consumption and Production | #301–400 |
| Sustainable Cities and Communities | #301–400 |
| Partnerships for the Goals | #401–600 |
ELTE regularly achieves high positions in various national and international rankings. For this, in detail, see our summary here (in Hungarian).