International Student Ambassadors' Farewell Meeting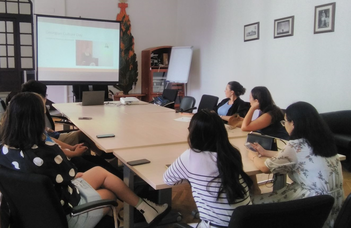 Every year, Eötvös Loránd University's International Student Ambassadors stay in their position from October until the end of July. Before the end of the academic year, the University holds a farewell meeting for them.
This year, the farewell meeting was held on 28 June. During the meeting, representatives of the International Strategy Office and the Ambassadors looked back on the activities that the Ambassadors were involved in during the current academic year. To recall a few highlights of the year, some of the students participated in the Georgian Culture Day (https://www.elte.hu/en/content/georgian-culture-day-at-elte.t.2347), the Meet My Professor Interview series (you can find these videos here: https://www.elte.hu/en/content/meet-my-professor-interview-series.t.2240) as well as the Campus Tour videos (which will be uploaded to the University's website soon). The Ambassadors also received their certificates, and the most active ones were awarded with gifts.
Following the official program, the Ambassadors and the University representatives had the opportunity to enjoy a get-together at a city center restaurant where the students shared their experience about the university life at ELTE as well as in Hungary, and also discussed potential future projects and events.
You can read the introductions of the International Student Ambassadors of the academic year 2021/2022 and the Ambassadors from past years here: https://www.elte.hu/en/international-student-ambassadors.
If you are currently enrolled as a student in the second/third/fourth year of any degree program at ELTE and you want to tell others how great it is to be with us, you are a perfect candidate to be an ELTE International Student Ambassador.
Make sure to stay up to date on the page https://www.elte.hu/en/calls-for-applications where the call for application for the International Student Ambassador position will be posted soon!