Music and Dance at ELTE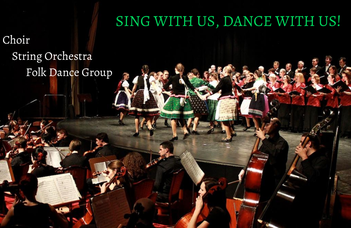 The Art Ensemble of Eötvös Loránd University are non-professional music and dance groups, consisting of current and former students, as well as lecturers of our university.
All the three groups, the Béla Bartók Choir, the Chamber Orchestra and the Folk Dance Group have rehearsals twice a week in the evenings. During the pandemic the weekly rehearsals are suspended and replaced by home practice assignments.

Have you heard of the unique beauty of the Hungarian folkdance? Or would you like to dive into the Hungarian culture, and experience how Hungarians did party in the past and how they do it now? Or you just enjoy those kinds of sports which combine exercises with art? You can find all of that in the Folk Dance Group, where above all you can become a member of a great team and find friends, so that you will not need to spend your evenings in Budapest alone. The ELTE Folk Dance Group has a more than 60 years old past, which is brightened with numerous awards. We operate with two groups, a pre-group and a performing group. In the pre-group we expect beginner dancers. The more experienced, advanced dancers are expected in the performing group, that takes part in regional, national and international dance festivals. Come, try it out, and dance with us!

The choir and orchestra's repertoire includes baroque, classical, romantic and contemporary pieces, a capella choir works, oratorios, concertos and symphonies, but they also find pleasure in exploring the borders between classical and popular music. In the last years they performed Carmina Burana, Mozart's Requiem, Operachoirs, and Verdi's Requiem.

The leader of the Art Ensemble is Maestro László Kovács, who is also the conductor of the concerts. He is a very well-known and high professional musician.
The Art Ensemble was founded more than 70 years ago. During this long period the choir and the orchestra have performed in most European countries, as well as in the United States, Canada and the Middle-East. In recent years they performed in the Great Hall of the Musikverein in Vienna, whereas in 2014, thanks to an exchange programme with a Swiss university, they gave concerts in the Cathedral of Lausanne. At their latest concert trips they had the opportunity to visit China, where they performed very successful concerts at the University of Foreign Studies in Beijing and Shanghai.

After the pandemic situation you can join them too!

More information
info@zene.elte.hu
Eötvös Art Ensemble