Lessons for Ukrainian children at ELTE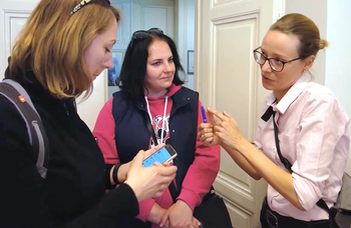 HU
In response to the crisis in Ukraine, ELTE's Faculty of Humanities has organised the country's first afternoon school for refugee children. The volunteer programme was launched in mid-March by Kristina Kocyba, lecturer at the Department of German Literature and Culture.
The temporary school offers afternoon classes for Ukrainian refugee children, three times a week. During the sessions, the children mainly learn Hungarian and English to help them integrate into the Hungarian public education system. Ukrainian teachers Lana Morozova and Olena Korjagina from Kharkiv have joined the project. Yulia Savenko, a refugee from Eastern Ukraine who has moved to Hungary, plays a key role in coordinating the programme.
Kristina Kocyba mentioned that they currently have two groups: for children in grades 6-7 and 8-9. Currently, 25-30 children attend the classes in both age groups. There are 15 student volunteers and teachers working with the children. It is important for the school to be accessible not only to children but to the mothers as well, for whom the sessions mean an opportunity for social interaction and provide a supportive environment.
In the different faculties, several volunteer groups help the integration of Ukrainian refugee children: students at the Faculty of Primary and Pre-School Education, with the help of Edisonplatform, hold weekly sessions at the refugee shelter on Gyáli út, while the Faculty of Education and Psychology has started a playgroup, among other initiatives. In view of the crisis in Ukraine, ELTE helps students from abroad and refugees arriving in our country, see below for updates.
RTL klub has compiled a report on the country's first temporary school, which can be found here.