The relations of ELTE with Korea expand in the future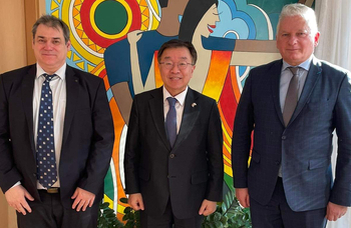 HU
Rector László Borhy and Imre Hamar, Vice-Rector for International Affairs, received Hong Kyudok, the newly appointed Ambassador of the Republic of Korea on an introductory visit at ELTE.
Hong Kyudok, the recently appointed ambassador of the Republic of Korea to Hungary, visited Eötvös Loránd University on 7 February 2023. In addition to the extended relations of ELTE in Korea, potential future collaborations and the planned visit of the university leaders to Korea were discussed at the informal meeting.
ELTE is regarded as the centre of Korean Studies in Hungary. It was after the success of the four-semester course on Korea launched by the ELTE Faculty of Humanities in 1997 that the Korean Studies minor was established. Later, in the summer of 2008, the Department of Korean Studies was founded, as well. The first master's course was launched in 2013. ELTE maintains bilateral relations with a total of 19 South Korean universities in faculty, researcher, student, and staff mobility, but the agreements also cover joint research activities and projects.
Our university has organised a Korean career day on several occasions, where Korean companies active in Hungary were also present. The Library of the Department of Korean Studies was opened in November 2020. It was established as part of the project "Window on Korea" funded by the National Library of Korea. The King Sejong Institute Budapest was established in the autumn of 2021, and last year Lee Shang-hwa, Ambassador and Deputy Minister for Public Diplomacy of the Republic of Korea, gave a lecture on the benefits of soft diplomacy. ELTE has recently concluded a cooperation agreement with Chung-Ang University on student exchange, which is focused on research in artificial intelligence.