Eötvös Loránd University is looking for International Student Ambassadors (2023/24)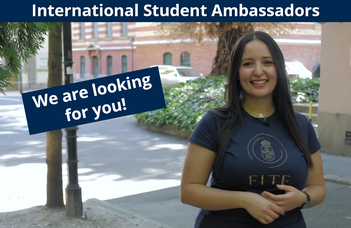 WHO ARE ELTE INTERNATIONAL STUDENT AMBASSADORS?
ELTE International Student Ambassadors are the international faces of the university, representing the student body. They are degree-seeking international students at ELTE who are willing to share their ELTE experience with prospective students interested in studying at our university and/or currently applying for a degree program. The Ambassadors have the chance to join promotional activities of the university, they share their views and recommendations in printed brochures and on online platforms (e.g., university website, social media sites) and participate in various events. Their duty may also include the active representation of all the international students of the University in the newly founded International Student Advisory Committee, if your performance makes you eligible.
WHO CAN APPLY?
Anyone who is currently enrolled as a student in the second/third/fourth year of any degree program at ELTE can apply. If you want to tell others how great it is to study at ELTE, you are a perfect candidate to be an ELTE International Student Ambassador in 2023/2024.
WHY SHOULD YOU DECIDE TO BE AN ELTE INTERNATIONAL STUDENT AMBASSADOR?
Are you enjoying your studies at ELTE? Would you like to share your experience with potential students? Do you want to make ELTE a more inclusive university where everyone can feel that they are welcomed? Become an ELTE International Student Ambassador!
You help prospective students with information – the more people hear about ELTE, the more valuable your degree is!
You have the chance to participate in promotional campaigns of ELTE including being featured in digital and printed materials such as brochures, videos and online platform posts (e.g., university website, social media sites, especially: elteinternational Instagram account, elteinternational Facebook page, Youtube, LinkedIn, etc.).
We organize trainings, group discussions and further programs for International Student Ambassadors that you can profit from.
You can be an Ambassador for one or several full academic years. If you actively participate in the program, you are entitled to receive a certificate at the end of the academic year.
You create content for the international Instagram account and Facebook page of the university (elteinternational), thus you gain experience in social media content management (Please note that for content purposes we can only use your own photos and videos).
It looks good on your CV.
You gain skills that employers appreciate which are not taught in your degree program (e.g., event organization, presentation skills, increased confidence).
After completing your course you can become one of the International Alumni Ambassadors of the University
You can make a difference by helping with the internationalization of the University
We will periodically organize leisure activities for the International Student Ambassadors such as hikes, team building events and cultural activities.
WHAT ARE YOUR DUTIES AS AN ELTE INTERNATIONAL STUDENT AMBASSADOR?
You are available for anyone interested in ELTE to provide information about the university.
You connect interested students with the ELTE International Strategy Office (iro@elte.hu) where they can receive information about further details.
You participate in international events and/or promotional activities of ELTE where your task is to give information to interested participants about the international possibilities at ELTE (e.g., you can give presentations about your personal journey at ELTE, participate in the organization of the Orientation Week).
You regularly share your experience in printed brochures/on online platforms (e.g., university website, social media sites, especially: elteinternational Instagram account, elteinternational Facebook page), and in various events of ELTE.
You participate in group discussions about topics connected to the University.
You can represent ELTE at online student recruitment fairs. In such cases, providing private data to the third-party organizers might be necessary.
If you are interested, prove yourself and get nominated, within the newly established International Student Advisory Committee, you may have the opportunity to help the university's international students in person one day a week in an office provided by us.
AGREEMENT:
You and ELTE International Strategy Office make an agreement together on your tasks for the academic year. It all fits around your schedule in a flexible way.
Commitment: A few days per month. It can be more – depending on your enthusiasm and curiosity to get involved.
The position is unpaid, and it runs on a voluntary basis, but we provide you with trainings and various leisure activities.
HOW LONG CAN YOU BE AN ELTE INTERNATIONAL STUDENT AMBASSADOR?
The International Student Ambassador position is a one year-long commitment, from October 2023 until the end of the academic year 2023/2024. You can decide until the end of June if you would like to be an ELTE Ambassador for the following academic year again (if eligible).
HOW TO APPLY TO BECOME AN ELTE INTERNATIONAL STUDENT AMBASSADOR?
STEP 1: Apply - Please fill in the application form HERE.
DEADLINE: 20 SEPTEMBER 2023
STEP 2: Selection process and notification of the applications
Following a first selection round, we plan to interview the prioritized candidates between 26 September and 7 October 2023.
STEP 3: Discuss details
In case of successful application, the International Strategy Office will get in touch with you and discuss the details of the program.
STEP 4: Training
The International Strategy Office will organize a training for all selected International Student Ambassadors.
Preliminary date of the training: 20 October 2023
STEP 5: Start activities
After you have agreed on your activities with the International Strategy Office, you can start your activities.
Remember! You are in constant contact with the ELTE International Strategy Office and you can get help from us any time.
STEP 6: Certificate
At the end of the academic year, you receive a certificate proving that you have participated in the Ambassador Program. At the same time, you can decide if you would like to continue participating in the program in the next academic year, as well. Please do not submit your application if your timetable is very tight and you lack the necessary free time, because you won't be able to participate in most of the activities! Please also note that you are only eligible for the certificate if you have completed your part of the tasks during the year!!!
Application deadline: 20 September 2023
We look forward to receiving your application!
CONTACT
For further information, please contact:
András Budai
International Strategy Office
andras.budai@rk.elte.hu