Belin Demirbag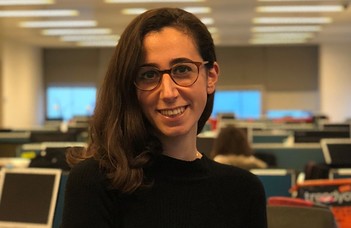 Study program: Sociology BA
Country: Turkey
Scholarship:
Period of studies at ELTE: 2019.09.02 - 2022.07.15
"Every student can find something according to his or her interests in the university."
What stood out to you about ELTE?
I think it's full of opportunities. Every student can find something according to his or her interests in the university. There are many options for sport activities as well as academic possibilities which creates a chance for students to become academically active during their university years.
What makes studying at ELTE so great?
The quality of education. During my education process, I had a chance to take part in many interesting lectures from highly qualified professors. In addition to their competence about their subjects, they helped me a lot to gain a broader and critical perspective about my studies.
Even in the conditions of pandemic, most of the lectures have been conducted in a rather effective way. We have managed to continue lectures without losing quality. Therefore, even I am only in my second year at the university, I already feel quite confident about my background.
What are / were your challenges in your study program?
Actually, the main challenge of my university program has occurred not because of the program itself, but the conditions of the pandemic. I had to continue my education through online platforms after spending only one offline semester at the university. This situation was quite challenging at the beginning, but now, we have managed to deal with these difficulties.
How did you overcome these challenges?
I have overcome these challenges with help from the professors and department officials. They encouraged me to share the difficulties that I am confronted with during the semesters. Additionally, they tried to find solutions with me.
How would you describe ELTE in three words?
International, qualified, helpful
How do you think your degree will help you in your life and career?
I believe that the knowledge which I gain in my degree program will make me eligible for my further career plans. Moreover, I am planning to pursue a career within the European Union. Therefore, graduating from a university with a good reputation like ELTE will help me pursue my career plans.
Do you have any recommendations for future students at ELTE?
Even if it seems difficult to start a new life and education in a different country at the beginning, it is definitely worth trying. I believe that you will not regret it and you will enjoy your life both in Budapest and at ELTE.