Housing Office
Housing Office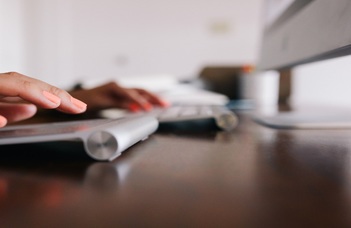 As ELTE has over 27,000 students in total and approximately 3,100 dormitory places, it is very common among students to look for private accommodation, i.e., to rent an apartment or room alone or with other students.
If you need help with finding accommodation in Budapest, please fill in the online registration form and send your apartment preferences to us. Soon you will be contacted by e-mail with proper accommodation offers, based on your preferences given at the registration. We will forward your preferences to our qualified Real Estate Agency partners.
Please Note: when you use the services of our Housing Office, the landlords will require deposits (minimum 2 months rental fee) at your arrival!
Please note that the real estate market is also limited in Budapest. Thousands of international students are seeking for accommodation for the new semester. We strongly advise you to book your accommodation as soon as possible.
E-mail: housing@elte.hu
Partners
elte.ingatlan.com
The ELTE Directorate of Services provides a unique opportunity to the ELTE students as the partner of the ingatlan.com from the autumn semester. The interested students can select from ten thousand tenancies offered by owners and real estate agencies at the largest real estate advertising portal of Hungary.
Unlike other ELTE housing partners, they do not own or manage the accommodations. It is a website where anyone can advertise his/her place for free, and there is a good chance that you will make a lease agreement with a private person instead of a real estate company. Then what does our partnership mean?
The ingatlan.com has created a subpage, the https://realestatehungary.hu/elte. Every offer listed here has been seen by a moderator who confirmed that it is an existing place and fulfils the basic requirements determined by ELTE. There are several filters you may find most useful, like the use of our epidemic clause.
Now Hungary's largest database of tenancies is available to every ELTE student! Check it out today!
Website: https://realestatehungary.hu/elte
BELVÁROSI APARTMENT HOUSE, KORONA APARTMENT HOUSE
We offer accommodation in a youthful and cheerful environment in two of our apartment houses. The Belvárosi Apartment House awaits new residents in the heart of the city but still in a quiet street. The Korona Apartment House is located in a quiet area of the 16th villa district.
E-mail: belvarosi.alberlethaz@gmail.com, korona.alberlethaz@gmail.com
Website: Belvárosi Albérletház (belvarosialberlethaz.hu), Korona Albérletház (koronaalberlethaz.hu)
Phone: Henrietta Koncz +36706248050, Petra Herczeg +36705019099
Budapest Budget Rooms
As a company managed by my family, we are working with international students for 30+ years. We spent 12 years in tourism from 2008 to 2020 running a 250-bed Hostel. Recently we are renting rooms for mid and long-term in properties we own. We have rooms with 1, 2, 3, and 4 beds with different levels of facilities, which can satisfy many kinds of needs. If you are looking for a room, please look around at https://budbudgetrooms.com/ and if you like it please fill in the contact form so we can get back to you with a personalized offer. Alternatively, you can contact us via info@budbudgetrooms.com.
Guest Student
Guest Student Company was found in 2014 to help foreign students to manage their life upon their arrival to Hungary. We are here to help each foreigner to find a suitable accommodation based on their request, and to give help in all legal processes to gain their residency in Hungary. We accommodated more than 10,000 Clients in the previous years and we are accommodating right now more than 250 clients, We have more than 500 available places which are ready and prepared for you.
We also, help students upon arrival with Airport transfer and basic needs upon arrival such as sim cards, transportation tickets, Insurance, etc...
Our Event Planning department is ready with a basket full of entertainment events which will make sure to let you enjoy our culture and to get used to living abroad with unforgettable moments.
Our Team is from International people who can speak English, Arabic, French, Hungarian, German, and Persian, choosing our company will make it easier since you will not face any language barriers to make your reservation and through the check-in process.
Website: www.gueststudent.com
Email: dormitory@gueststudent.com
R4S (Rentals for Students)
The R4S (member of the ProIngatlan.hu Kft. group) is a qualified real estate partner of the University, who are happy to find the best solution for all the students searching for a nice place to spend the next semester in Budapest.
You can also contact them directly: info@r4s.hu or check their website at http://r4s.hu/properties/.
Downtown Apartments Ltd.
We are operating more than 210 renovated, downtown located student rooms with full service and 24 hours hotline. High speed wifi, double beds, fully equipped rooms and flats (bedsheets, towels, washing machine, ironing kit, fully equipped kitchen, etc.), cleaning service, and full maintenance. Just select your room and enjoy your stay :-)
E-mail: dtabooking@speedcarve.hu
Website: http://downtownapartments.eu/eng/student-site/our-flats/
SRS-Budapest
SRS-Budapest was founded in 2005 to help the foreign students finding the best accommodation for the stay in Budapest. Today SRS-Budapest has the largest database in Budapest, and the rooms will be rented only for students. With SRS-Budapest you can rent and sign a contract for studios, or only rooms in shared apartments.
You can reach them at www.srs-budapest.hu, or you can contact them directly at martina@srs-budapest.hu email address or on the mobile +36204738128.