Learn Hungarian at ELTE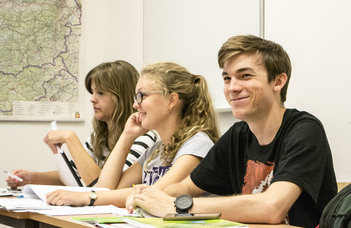 ELTE has a great tradition in teaching Hungarian as a foreign language. The Department of Hungarian as a Foreign Language, founded at the Faculty of Humanities in 1952, has much experience in training teachers of Hungarian as a foreign language. Language teachers of the Hungarian courses are the best professionals of the field, ELTE graduates of the Department of Hungarian as a Foreign Language.
If you are a first-year Stipendium Hungaricum student, you must learn Hungarian in the first two semesters of your studies. Please check details here.
If international students enrolled at ELTE (e.g., Erasmus students, other exchange students and guest students, and degree-seeking students) and anyone interested (e.g., non-student expats of Budapest) want to learn Hungarian during the semester on a regular language course, they typically select the General Hungarian language course. Also, if you are a Stipendium Hungaricum student and you have finished your two semesters of mandatory Hungarian course but want to learn Hungarian further, you can read further about the langugae courses and register for a General Hungarian language course here.
If you want to learn Hungarian during the summer, please apply for the Summer University of Hungarian Language and Culture.
If you want to study intensive Hungarian (e.g., because you want to enrol for a degree program in Hungarian afterwards), you can apply for the Intensive Hungarian Foundation Course.
The Intensive Hungarian Foundation Course designed to anyone interested in the Hungarian language and culture is the ideal way to jump-start your future academic or professional life in Hungary. With a minimum of 800 contact hours guaranteed, the course can bring you up to speed in as little as two semesters.
Divided into two terms, the aim of the course is to provide students with a system of tools allowing them to successfully manage communicational situations arising in the target language environment and enabling them to comprehend factual texts containing the basic structures of the language, in both reading and writing. For more details, please visit this page.
If you want to take your Hungarian to the next level and graduate in Hungarian studies, you can apply for the Hungarian BA program.