In case of emergency
In case of emergency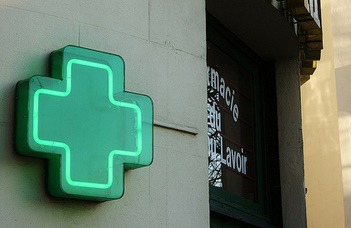 Practical Guide to the Hungarian hospital system (how to prepare for a hospital stay, especially for a COVID-19 hospital quarantine)
Pharmacies are usually open until 8 p.m., but there are ones that are open around the clock where there are dispensing chemists on night duty. Note if you go to a pharmacy in the evening or during the night, you have to go to a special window and sometimes ring a bell too.
Here is a list of some 24-hour pharmacies:
City centre:
Fővám téri gyógyszertár: 1056 Budapest, Fővám tér 4
Teréz gyógyszertár: 1067 Budapest, Teréz körút 41
Other districts:
Óbuda gyógyszertár: 1032 Budapest, Vörösvári út 84.
Elefánt gyógyszertár: 1101 Budapest, Pongrácz út 19.
Déli gyógyszertár: 1123 Budapest, Alkotás út 1/B
Örs vezér gyógyszertár: 1148 Budapest, Örs vezér tere 23.
Nagyicce gyógyszertár: 1163 Budapest, Veres Péter út 11/B
Thököly gyógyszertár: 1183 Budapest, Thököly út 3.
Hétkorona gyógyszertár: 1195 Budapest, Ady Endre utca 122.
Tilia gyógyszertár: 1212 Budapest, Görgey Artúr tér 8.
Some of the hospitals (hospital - kórház)
Merényi Gusztáv Kórház: 1097 Budapest Gyáli utca/út 17-19
Péterfy Sándor utcai kórház: 1076 Budapest, Péterfy Sándor utca 8-20
Szent István kórház: 1097 Budapest, Nagyvárad tér 1
Szent László kórház: 1097 Budapest, Albert Flórián út 5-7.
Szent Imre kórház: 1115 Budapest, Tétényi út 12-16
Uzsoki utcai kórház: 1145 Budapest, Uzsoki utca 29-41
STD Clinics, HIV tests
Emergency numbers

Ambulance

104

Police

107

Fire Department

105

Central ER number

112