Mohammed Hassan Al-Majidi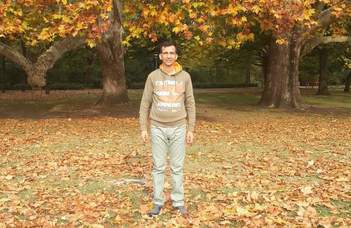 Study program: Hevesy György PhD School of Chemistry
Country: Iraq
Scholarship:
Period of studies at ELTE: 2016.09.01 - 2020.07.31
"I wanted to study chemistry, and ELTE is the best in Hungary and is among the 500 best universities in the world."
Why ELTE?
ELTE is an internationally recognized institution ranked as number one in Hungary with a world-class reputation in the field of a sciences like chemistry and physics. It offers a wide range of programs mostly in English and scholarships for international students of all categories.
I wanted to study chemistry sciences, and ELTE is the best in Hungary and is among the 500 best universities in the world.
What do you like most about being a student at ELTE?
Actually, I have learned a lot. There are teachers in my department such as my supervisor Dr. Gitta Schlosser and head of the department prof. Ferenc Hudecz, who are extremely kind, friendly and co-operative, and I also learned a few interesting things about their culture, habits, traditions, and lifestyles. I am enjoying being a student at ELTE.
What are your challenges in your study program?
The first challenge was when I faced serious difficulties in the complex exam in organic chemistry. But after getting the help I needed from the colleagues and my supervisor, I understood it more.
The second challenge was to adapt to the education system that was quite different from that of my home country.
How do you think your degree will help you in your life and career?
I think that having a Ph.D degree from one of the top 500 higher education institutions will give me many chances to have a better career.
I believe it gives me a balance of scientific expertise to the development of my work in the field of teaching and research. Also hope to create a special laboratory technology, nanotechnology and nanomaterials. Because I think this area is important in the development of the industrial situation in my country.
Do you have any recommendations for future students at ELTE?
Dear all Students,
it is worth trying to be brave and to follow your dreams. Come and feel this proud as a member of this lovely university ELTE. This university has a very welcoming environment. Be motivated and persistent in order to achieve your goals. Try to participate in as many events as the university has to offer, you will appreciate it later in your life.
Looking forward to meeting you here at ELTE, and please don't hesitate to ask for any favor, we can surely help you as international student ambassadors of ELTE!