Faculty of Social Sciences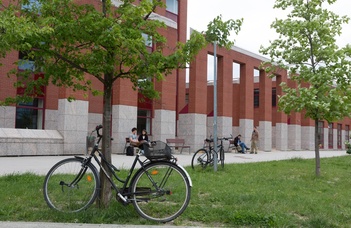 About us
ELTE Lágymányos Campus, home to three ELTE Faculties including the Faculty of Social Sciences, is located on the bank of the Danube in the Southern part of Budapest, with other universities and research institutes situated nearby. The modern building in a relaxed environment is accessible for people with disabilities.

ELTE Faculty of Social Sciences is the country's largest social science education centre with numerous, internationally renowned and widely published faculty members which guarantees the highest level of instruction. Our school – besides strict academic requirements – has an open and collegial atmosphere where students enjoy studying. The staff's preparedness and willingness to help makes our institution a truly inspiring space/stimulating environment.

We have a faculty with outstanding professional knowledge, and we know what kind of employees employers look for on the job market. The researchers and professionals who teach our courses make every effort to incorporate the results of humanities and natural sciences, to back up theory with practical approaches, and to go beyond skills development to inspire students to critical social thought, to seek constructive solutions, and to have an open worldview.

We recommend our courses especially to those who wish to enhance their knowledge in the field of social sciences or who wish to specialise in a narrower field of study within it. We also welcome students with various scientific backgrounds that provide significant added value to all that is taught at our faculty.

Tolerance and openness are the core values of our faculty. The programs that reach beyond studies (festivals, film clubs, discussions and debates) provide students with the opportunity to get to know one another's cultural backgrounds.

Students participating in our English language programs not only receive an internationally recognized degree, but also enjoy the benefits of being a member of the ELTE community. This entails sporting opportunities at our sports facilities, the services of the country's largest university library, and numerous other benefits.
Short history
Sociology has a long and lively tradition in Hungary, but politics have often intruded into its development and sociologists had to struggle against actual political power holders in order to maintain its traditions and continue creative research and education. After a short but lively period of activity, the ELTE Institute of Social Sciences was dissolved in 1949 when the Communist regime took over the country. It was not before the mid-sixties that sociology as a field of study was reinstitutionalized in Hungary, when a sociology research group was created at ELTE Faculty of Humanities. In 1970, the research group was transformed into a teaching department. During the 1970s the department became a leading centre in both education and research. The number of students and teaching staff grew fast and became more specialised. In 1982 the department was transformed into the Institute of Sociology and Social Policy, a separate school of Eötvös Loránd University. In 2003, the Institute was joined by other departments of ELTE University and thereby the new Faculty of Social Sciences was established.
The Faculty in Numbers
Today the Faculty of Social Sciences consists of…
6 Institutes: Economics, Empirical Studies, Political and International Studies, Social Studies, Social Relations
14 Departments: Economics, Health Policy and Health Economics, Statistics, Social Research Methodology, European Studies, Political Sciences, Social Work, Social Policy, Minority Studies, Cultural Anthropology, Social Psychology, Sociology, History of Sociology, Historical Sociology
The Faculty of Social Sciences has…
approx. 2000 students
an academic staff of approx. 100 members
an administrative staff of approx. 40 members
The Faculty of Social Sciences offers…
5 Bachelor's Degree Programs: BA in Applied Economics, BA in International Relations, BA in Social Sciences, BA in Social Work, BA in Sociology
11 Master's Degree Programs: MA in Community and Civil Development Studies, MA in Economic Analysis, MA in Ethnic and Minority Studies, MSc in Health Policy, Planning and Financing, MA in Human Ecology, MA in International Relations, MA in Social Policy, MA in Social Work, MSc in Survey Statistics, MA in Sociology, MA in Cultural Anthropology
3 doctoral programs: Interdisciplinary Social Research, Sociology, Social Policy

1 of them is available in the English language:
Sociology
Webpage of the Faculty of Social Sciences
Facebook Page of the Faculty of Social Sciences
Download the brochure of the Faculty of Social Sciences
Faculty of Social Sciences
Faculty of Social Sciences
Check out what our international students think and join ELTE.
Check out what our international students think and join ELTE.