Suchith Umesh Shetty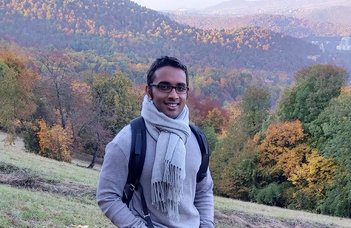 Study program: Computer Science MSc course – Data Science specialization
Country: India
Scholarship:
Period of studies at ELTE: 2019.09.06 - 2021.07.15
"ELTE is an amazing university and Budapest is an amazing city. If you have an opportunity to live this experience, do go for it."
What stood out to you about ELTE?
Coming from a very different education system in India, what stood out to me when I started my master's degree here at ELTE is the open interaction between students and professors. Students here are encouraged to work collaboratively with the university professors, PhD students and industry partners on challenging projects.
What makes studying at ELTE so great?
Ours was a special batch since we could attend classes in person for the whole of 1st semester and partially during the 2nd semester. I personally enjoyed in-person classes at ELTE, interacting with students from many other countries, peaceful and focused study time between classes in the university library, and working on challenging projects. There is so much of social-life to explore outside of the university in Budapest, that time at ELTE just seemed to fly by. It is very unfortunate that the pandemic hit and we had to switch to online classes. Though social life came to a stand-still, I am very grateful to ELTE that our academic life continued with full vigour during these testing times.
What are / were your challenges in your study program?
I came from a non-Computer-Science background. Although I have work experience in the field of Data Science, pursuing masters in Computer Science without a strong foundation can be challenging. So, I know that I would have to put in extra effort to make up for the lack of an entirely relevant academic background. Further, the pandemic situation that started during the middle of our time in a foreign country did make matters more challenging and stressful.
How did you overcome these challenges?
I had to persevere with dedication and commitment to overcome personal challenges in terms of my skills and ability to complete the requirements of the curriculum. Self-motivated and encouraging groups of students/friends from the university and the dormitory made it easier to overcome these challenges. I also took some effort to learn basic Hungarian, thanks to which I could have a better social life with the locals. Challenges from the pandemic are still ongoing, which I believe everyone is trying their best to overcome. Our faculty and student-coordinators have managed to make things run as smoothly and seamlessly as possible from the point of view of continuing our studies here at ELTE.
How would you describe ELTE in three words?
Student-Friendly, Research-Oriented, Career-Focused
How do you think your degree will help you in your life and career?
I am very happy about my decision to pursue an MSc degree at ELTE. I have a lot to take-away from my 2-year experience, which I believe will come in handy in all my future endeavours. Studying at ELTE has broadened my horizon regarding my prospects for the future. Apart from the regular curriculum, I worked as an AI research student here at the university and it has been a wonderful learning experience. Lastly, living a student life in Budapest is a worthy experience in itself that I am going to cherish for the rest of my life.
Do you have any recommendations for future students at ELTE?
ELTE is an amazing university and Budapest is an amazing city. If you have an opportunity to live this experience, do go for it. Explore, be open to tackle new challenges and unimaginable gateways will open up for you here. Have a healthy balance between academic and social life, but be careful not to be too distracted or carried away by the intriguing and charm that is Budapest.