Programs for incoming students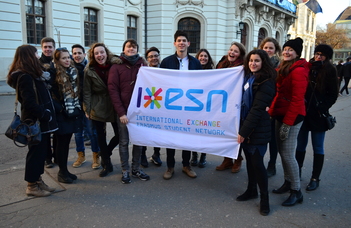 There are a large number of programs organized at ELTE throughout the academic year. It is worth regularly checking the events published on the university website or the ELTE International Facebook page - where both academic, study-related, and social activities are posted.
There are many programs organized particularly for international students as well. At the beginning of each semester, Orientation Week are organized for newly arrived students and a series of social events are organized by ESN ELTE during the academic year.
On all these events you can learn more about research life and student life at ELTE. Get involved, stay active, don't miss them.
Social events with ESN ELTE
The Erasmus Student Network (ESN) is the biggest student association in Europe. It is present in more than 500 higher education institutions from 40 countries. The network is constantly developing and expanding. It has around 13,500 active members that are in many sections supported by so-called mentors or buddies mainly taking care of international students. Thus, ESN involves in total around 29,000 young people offering its services to around 180,000 international students every year.
ESN ELTE is also a part of this international community. Both their programs and the mentor system aim to help the integration of the incoming students.
The organisation provides various social activities each semester. Check out the ESN ELTE programs on the official website of ESN ELTE.
The current international events are always published on the Facebook page of ESN ELTE.
Visit ESN ELTE OFFICE to purchase tickets for events, to buy an ESNcard, or just hang out with the ESNers.
Address: 1053 Budapest Kecskeméti street 10-12. – Eötvös Loránd University, Faculty of Law, Building B
You can find the opening hours updated on the official website.